Product Development is one of the main fields of activity of infoTRON, which was established in June 1994.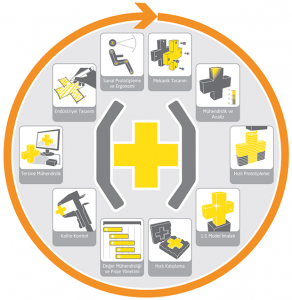 Product Development is one of the main fields of activity of infoTRON, which was established in June 1994.
infoTRON Product Development provides services ranging from design to manufacturing with its leading staff in the fields of Industrial Design, Ergonomics, Mechanical Design, 3D Printer and 3D Scanning, Engineering and Manufacturing. InfoTRON, which aims to reduce the production costs by reducing the production costs and increase the product quality while performing these innovations by adding the latest innovations to the continuous product development process, also provides turn-key solutions with providing the necessary technologies, installation, technical support and maintenance to the customers in all matters.
Industrial design
In today's competitive environment, it is not enough to use the highest technology alone, to design the most useful product or to sell it to the cheapest, to make a difference. The key to the success of your product or service is to ensure that all these features are blended with a good design and are of a quality that your customers will specifically seek.
Ergonomic Analysis
We use the Ramsis Ergonomics Analysis software for the studies that have completed the design of the products ergonomically to the users, cause any problems after long hours of use and how to solve the possible problems.
Class A Surface Modeling
One of the most important factors that constitute the quality perception of your customers visually after the production is the surface quality of your product. We support the Class A surface modeling needs of the companies we support with Icem Surf writing within our organization.
Trim Parts-Mechanical Design
There are problems in the realization of ideas in many product development processes. It requires good engineering, supported by the right software, to ensure that ideas are properly and correctly implemented. We analyze the details of all the combination, general construction and production of our products by our experienced engineering team.
3D Printing
Prototyping and functional testing work as early as possible during the product development process provides companies with great cost advantages. InfoTRON, which aims you to take advantage of these advantages, offers you service office services by using rapid prototyping technology which is suitable for your product and your needs.
Engineering and Simulation
Engineering and Simulation studies without physical prototypes using the flexibility of the virtual world allow you to control and understand the performance of your product in digital environment. In this way; design / project engineers can review the behavior of the product or system and make the necessary corrections at the beginning of the design phase. Thanks to this control and optimization in the initial phase, the desired design is achieved at a lower cost and earlier.
For detailed information about the support we can give to your company's product development process, please contact us at the phone number below.
+90 (850) 441 5000