hat is the best way to produce prototypes that match your designs while delivering your new product to the market at short time and low cost, and that can accurately deliver the end-product's functionality and performance?
With our durable, thermally stable range of material options at your desk or in your office, you can produce functional parts for visualization, accuracy and accuracy testing. With an extremely smooth surface quality, you can safely produce with our 3-dimensional printers with the highest level of accuracy and accuracy.
From Virtual Reality to Physical Reality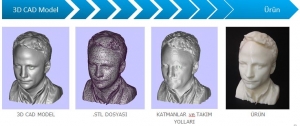 Rapid prototyping and 3D printing (3D Printing) method as a long-term industrialized technology used to call the layered production (Additive Manufacturing) call. Layered Production is performed by creating a layer layer product starting from the bottom by a 3-D printer after it has been transformed into layers with special software by converting a 3D CAD model into a triangular lattice surface (STL). Layered Manufacturing Technologies, by removing the design boundaries, makes it possible to produce parts that are impossible or difficult to manufacture with traditional production methods, easily and in a short time. You can produce moving and assembled parts as a single piece at a time, or you can easily produce parts with complex geometries.
Technological Innovation and Product Development
Technological innovation can be defined as the continuous renewal and improvement of the products, production processes and services in order to protect / increase the competitiveness of the companies in the market. The commercialization of the ideas that come up with the works carried out is of great importance. While developing a product under the conditions of today's competition, the goal of innovation in product, production method or services is to increase the value created by the company.
Use of prototypes and models on form and function trials in innovation and product development processes; It is of great importance that the products developed are presented to the consumer as soon as possible. In recent years in the production of these models and prototypes; In the production of the products to be presented to the end user, Additive Production Technologies is the most widely used technology in the elimination of long-time processes such as mold manufacturing.
Production Design Cycle
With the possibilities of Additive Manufacturing Technologies, parts can be produced in a short time on demand, no cost or time required for design change, removes design limits, and complex geometries and internal components can be produced.
Development of Additive Manufacturing Technologies
Rapid Prototyping industry, which began in 1987 with UltraViole light-sensitive polymers curing by layer layer with laser,
After 35 years, more than 40 different system manufacturers, mainly from the US, Japan, China and Germany, and more than 50,000 systems installed worldwide, have turned into an industry of approximately US $ 2 billion.
Considering that the number of CAD system users has risen from 150,000 to over 5 million in the last 10 years, it is a fact that 50,000 systems are quite small. But the fact that more than half of these system installations took place in the last 5 years is an important indicator of how fast this sector will grow in the coming days.
As these systems were not only used for Rapid Prototyping as in their early years and in some places they were used for direct parts manufacturing, the terminology developed and started to be called Additive Manufacturing Technologies.
Benefits of Additive Manufacturing
Allows rapid prototyping
Offers high-yielding studies
Increases the design area
Produces complex parts
Reduces time in design cycle
Allows analysis
Accelerates product optimization
Integrates design and manufacturing
Reduces your manufacturing machines
Reduces your production processes
Reduces fire, expense and production costs
Reduces product weight
Reduces vehicles and saves energy
Supports modularity
Produces functional products
Allows production of multi-function parts
Produces visual education materials
Allows building information modeling (BIM)
Produces diagnostic and treatment tools for medical purposes
Additive Manufacturing Technologies
In order to meet the demands of spare parts in space and to produce parts, the layered production adventure has gone a long way in recent years. Especially in the last five years, it has become more viable and has entered into homes. It is now possible to push the boundaries of innovation and design with these technologies, which provide infinite possibilities in a wide variety of industries.
Additive Manufacturing Technologies are divided into 7 different categories as follows due to differences in manufacturing methods:
Adhesive Spraying
Directed Energy Spool Material Extrusion
Material Spraying
Fusion on Powder Floor
Plate Lamination
Photopolymerization in Boat.
Additive Manufacturing Technologies are classified into 3 main categories according to their usage areas and prices;
3D Printers
More conceptual product design experiments
Rapid Prototyping Systems
Function and Compliance applications and master models
Additive Manufacturing Production Systems
Production of direct end-use parts